JFOODO Japanese Wine Hong Kong Website, November 9. Wine Tasting Event Report Manuscript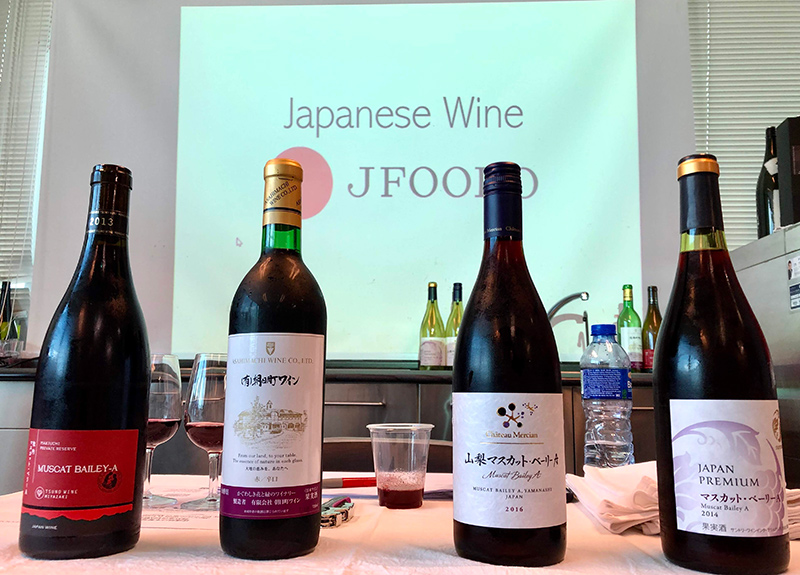 On September 9, 2019, a tasting event of Japanese wine was held at the Hong Kong Wine Academy. The theme of the event was matching Cantonese food with red wine made from "Muscat Bailey A", a notable variety native to Japan and which was registered in O.I.V. (Office International de la vigne et du vin, the International Office of Vine and Wine) in 2013. Chaired by Micky Chan, Debra Meiburg MW delivered a speech on the attractiveness of Japanese wine and Japan's wine-making history, followed by a hands-on experience matching Cantonese food, with a menu developed by Chef Jimmy Mah.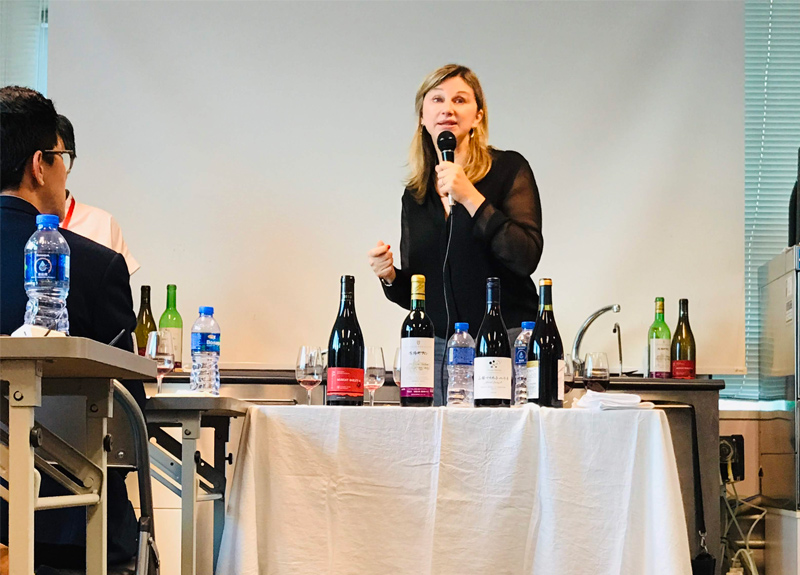 The speaker, Debra Meiburg is a Master of Wine, the highest title of the world of wine, and has been living in Hong Kong for nearly 30 years. She is widely considered to be one of the world's leading experts on the Asian wine market. She says with emphasis, "when you taste Muscat Bailey A, you will notice that it tastes similar to world renown mature sweet Pinot Noir, with a proud and impressive rich flavor." She also explained that Zenbei Kawakami, known as "the father of Japanese wine grapes", first introduced wine in 1927 and began wine production. Muscat Bailey A was developed through various efforts and has become highly evaluated worldwide.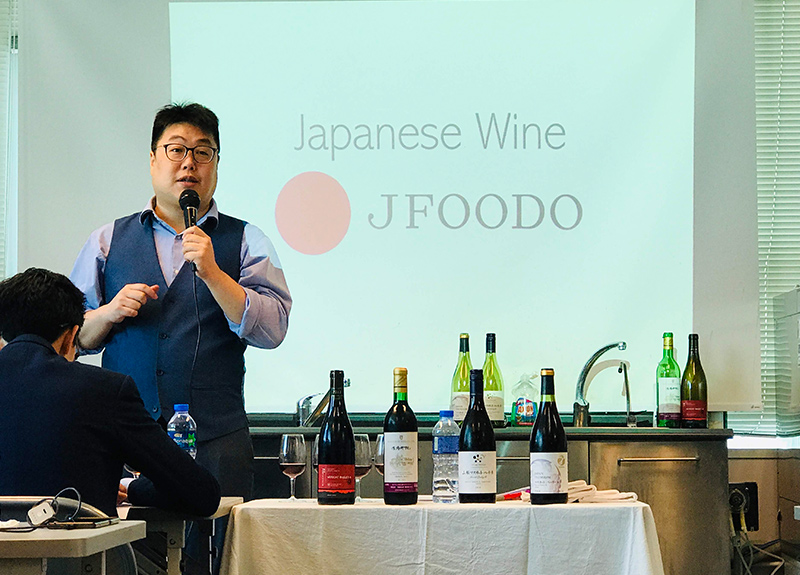 Chairman Micky Chan, as co-founder of Hong Kong Wine Academy, has been actively involved in wine education for many years, participating in many wine competitions as a judge since 2012. This time, he explained four brands of Muscat Bailey A exported from Japan to Hong Kong. Suntory Japan Premium Muscat Bailey A is produced from 85% Yamanashi grapes and 15% Nagano grapes and has a pleasant and distinctive bouquet. Château Mercian Yamanashi Muscat Bailey A is produced from 100% Yamanashi grapes and has the taste of rich mature red fruit and a hint of flavor from the barrels. Asahimachi Wine Red is from a winery in Yamagata Prefecture, surrounded by mountains in three directions. Its dark color is the result of 10% Black Queen grapes. A low tannin content allows a direct taste of cherry to come through. TSUNO Private Reserve Muscat Bailey-A is produced from a winery in Miyazaki Prefecture, in Kyushu and has a comparatively mature and rich taste of red fruit and fruity flavor.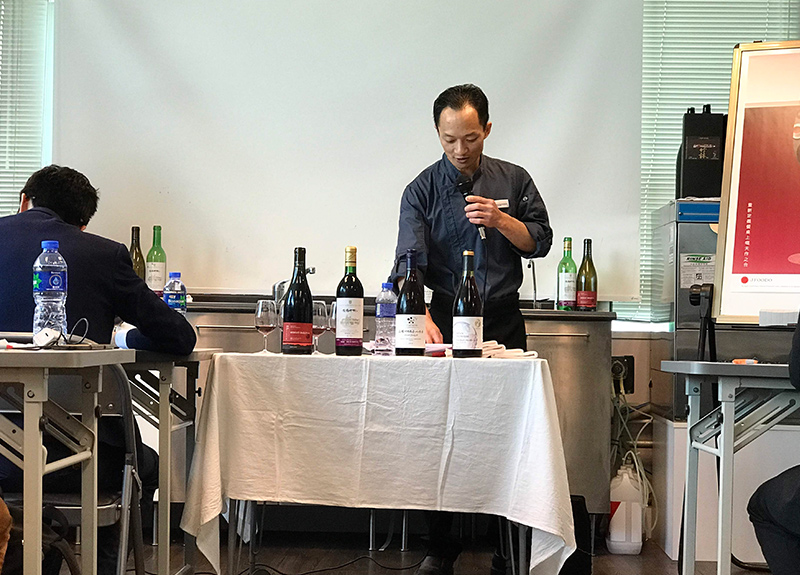 The Cantonese food menu at the tasting event was developed by Chef Jimmy Mah, owner and chef of Hey Hey Kitchen. Chef Mah, with a career spanning more than 20 years as head chef at a wide variety of establishments, including Michelin one-star restaurant Island Tang, a Ritz-Carlton Hotel, Hoi Tin Garden Restaurant, and others, chose a menu of three dishes, "鹵水鮑魚" (boiled abalone), "沙薑炒雞球"(stir-fried ginger chicken) and "香煎素腐皮卷" (fragrant fried egg rolls).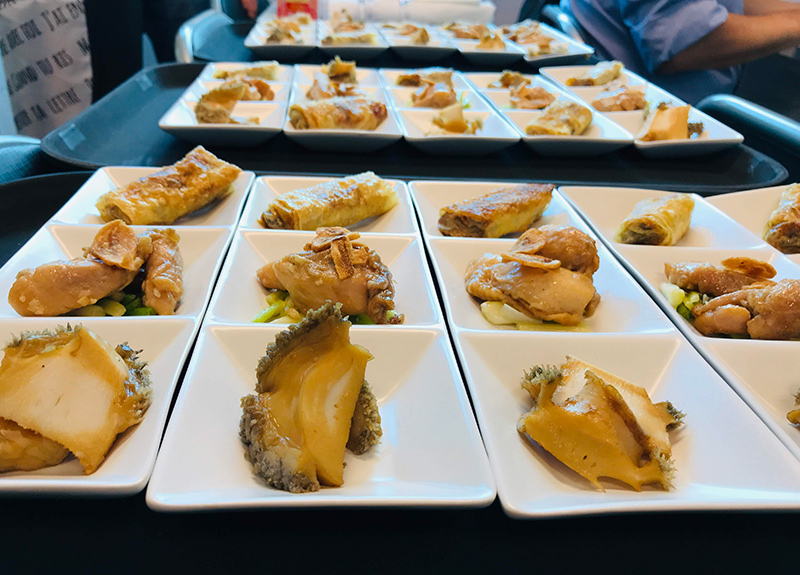 Chef Mah explained, "I thought the wine had a great bouquet, so I was careful not to season the food too strongly to allow the aroma to be enjoyed. Instead, I emphasized herbs from Hong Kong. I seasoned the food with star anise, cloves, white turmeric, etc. creating a good match for fruity red wine." The smiles on the faces of the participants grew as they experienced the flavors of Muscat Bailey A and the complex and rich flavored food.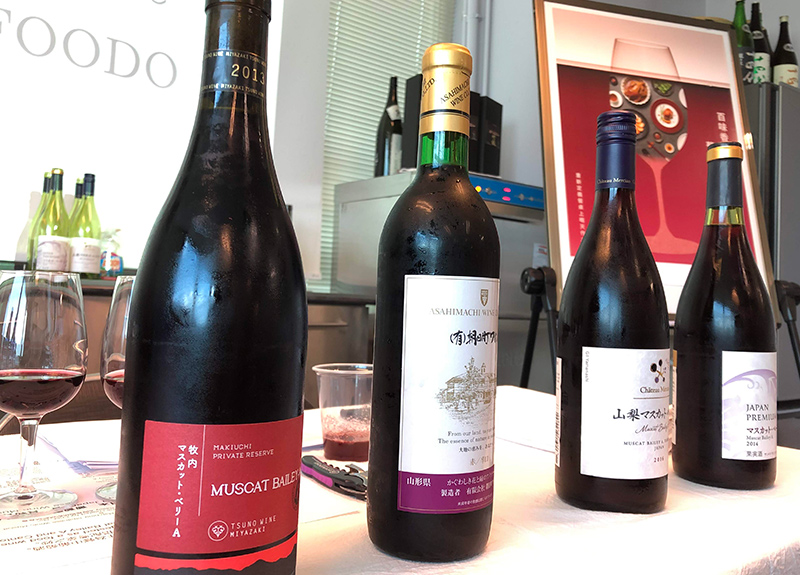 The participants seemed to be highly satisfied with the excellent flavor of Muscat Bailey A wine and surprised by its high degree of perfection. In particular, the wine was highly acclaimed for its "low-tannin gentle acidity," "attractive fruity bouquet" and "easy to drink due to its very mild and deep taste." Specific comments, such as "I would like to offer this at my restaurant" and "I want to know more about it" were also heard. The participants were also pleased with the matching between the food and wine, and most responded that it was "a good match" in the questionnaire provided after the event. They also agreed that this would be a good wine during a meal. Japanese wine, especially Muscat Bailey A, is recommended as wine that can be enjoyed with food. Be sure to give it a try!