Visiting Chateau Jun

~Part II Winemaking as Told by Mr. Nibayashi~
3308 Hishiyama, Katsunuma-chou, Koushu-shi, Yamanashi
https://www.chateaujun.com/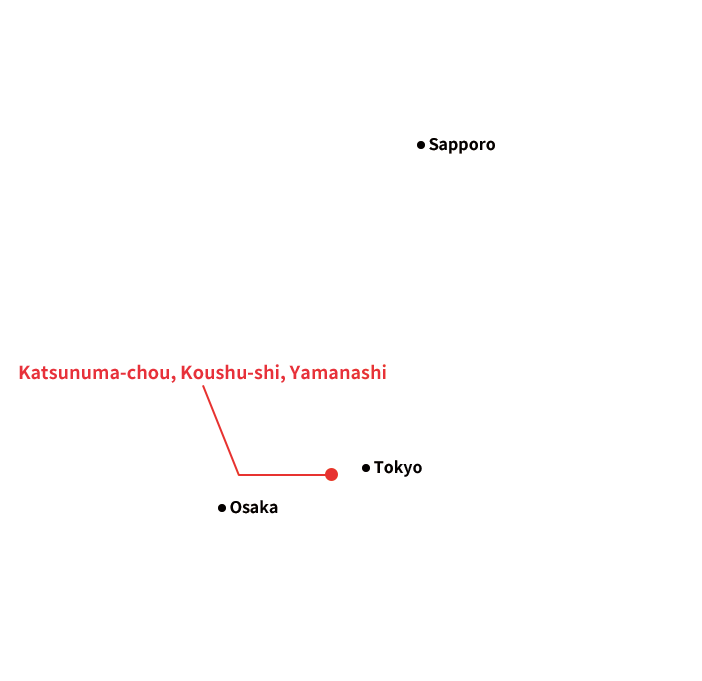 About
Mr. Kinya Nibayashi

Chief Winemaker at Chateau Jun Co., Ltd.

After graduating from the Department of Economics, Faculty of Economics, at RISSHO University, Mr. Nibayashi worked in the Economic Department's Agricultural Policy Section, located at Tatebayashi City Hall, Gunma Prefecture. He later worked at the Tatebayashi City Children's Science Museum (now the Chiaki Mukai Memorial Children's Science Museum) until 1998. After retiring, he became an agricultural trainee at Haramo Wine, then later an employee mainly in charge of cultivation.

As a seminar member of agricultural economics at the university, he wished to find a job with an agricultural theme. He was fascinated by winemaking as it involves processing and selling agricultural products as a form of agricultural industry. He was also fascinated by the many elements of wine that can be enjoyed, such as color, aroma, and flavor, which led him to enter the world of winemaking. In 2002, he moved to Chateau Jun, wherein 2009 he obtained his sommelier certification by the Japan Sommelier Association and, in the same year, became a Certified Wine Scientist through the University of Yamanashi, which was only about 30 people in Japan at the time.
Koshu Grapes

Koshu, a Variety to Be Treasured for Years to Come

Viticulture Is a Skill that Takes Years to Acquire

Koshu has been in Japan for over a thousand years and is almost indigenous to the country, so it is considered to be indigenous to Japan. From a global perspective, the existence of an indigenous variety is an important point. In this sense, the existence of Koshu in Japan is extremely valuable.

"The art of viticulture is something that the viticulturist captures over the years as he or she grapples with the compatibility of the land and the habits of the grapes. This is the fun part of growing grapes, finding better ways to grow them. Koshu is not the type of grape that can be grown successfully by following a textbook. That's why one of the appeals of Koshu is that each grower can show off his or her own techniques," Mr. Nibayashi explained.
Chateau Jun Sémillon 2018

Focusing on the White Wine Variety Sémillon

A European Variety with a Long History of Cultivation in Yamanashi

Mr. Nibayashi's main focus among the white wine varieties is Sémillon. Sémillon is more of a neutral variety than a unique one. One of the reasons why he insists on this grape variety is because of the long history of Sémillon cultivation in Yamanashi Prefecture.

"In wine regions, one of the most important factors is how long the grapes have been grown. In Japan, grape varieties were imported from overseas during the Meiji era as part of the country's efforts to adopt Western culture. Sémillon was one of them. In Yamanashi, there is a winery that has been growing Sémillon since 1934, and it has a long history. There are several wine-growing regions in Japan, and each region grows its own European varieties, some of which are called flagship varieties. I think Sémillon will be an important variety for Yamanashi when wine lovers in Japan compare the flagship varieties of each region," Mr. Nibayashi said.

Enjoying the Aging Process

Sémillon is an unusual white wine variety that ages well. In general, 90% of the white wines on the market are for early drinking, while the remaining 10% are for aging. Sémillon is also an important variety in the sense that it plays a role in that 10%.

Pair It with a Japanese Main Dish

When having a Japanese course meal, Koshu goes well with the meal's first half. However, when paired with the main dish, Koshu sometimes loses out. Sémillon is rising in importance in Japanese cuisine because its thickness and flavor does not lose out to the main dish.

"I like to have Koshu for the first half of a Japanese course meal, and Sémillon for the main course. There are many customers who come to Chateau Jun and say, 'I want to drink Chateau Jun's Sémillon.' I am happy to see the number of Sémillon fans increasing," Mr. Nibayashi says.
Petit Verdot Gapes

Featured Red Wine Varieties

Petit Verdot and Pinotage

Mr. Nibayashi has also been focusing on Petit Verdot and Pinotage for red wine, and, since the beginning of the 2000s, Petit Verdot has been one of the recommended varieties by the Yamanashi Prefecture Wine Brewers Association. Petit Verdot is often used as a blend in Bordeaux, but Chateau Jun is making 100% Petit Verdot.

One of the growers said, "I think this variety is good," before Chateau Jun started growing it as an experiment. The harvest season is relatively early, so it is not susceptible to damage from autumn rains and typhoons. Also, Pinotage has good coloration. The color of the wine is an important factor in making red wine. In addition, the fact that it is a European variety makes it easier to match with food. Mr. Nibayashi is hopeful that the high reputation of this wine as a table wine will lead to a reevaluation of Yamanashi as a wine region.
Chateau Jun's Motto

Close Collaboration with Growers and Honest Winemaking

Chateau Jun and Mr. Nibayashi's motto is "close cooperation with growers and honest winemaking." He places the utmost importance on working closely with the growers.

In years when the weather has been unfavorable, the grapes may not turn out as expected. Instead of turning the grapes over to the growers, he tries to work with them before that happens. He says, "If I don't do something, the grapes may all be ruined. That's sad, so why don't we cut them a little earlier than the ripening time?" He discusses the best time to harvest with the growers.

"I don't think we should harvest at a time when the growers don't agree, and I don't think we should offer our customers a wine that was made in a situation that someone didn't concur. It should be done at a time when both parties think it will make a good wine. That's what I want to emphasize the most. Also, I would like to work with the quality of the grapes, rather than manipulate the quality of the wine with secondary ingredients. It is important to be honest with both producers and consumers. Winemaking should be a simple process of just fermenting and bottling. We will continue to work with grapes and wine with constant improvement and deliver honest wines," he said.
What Makes Me Happy in Winemaking

One of the things that makes Mr. Nibayashi happy in the winemaking process is that the growers are interested in the "voice of the wine consumer." At Chateau Jun, they can show wine bottles, "Your grapes made this wine. This bottle is wine made from your grapes."

"When my grapes are made into wine and delivered to the customer, the growers ask me, 'What are they saying about this year?' It makes me happy that they care about whether or not the customers think the wine tastes good, and that they are taking responsibility for the grapes they have harvested. I consider the growers to be part of the winery. 'We got good grapes this year. It was a tough year, but it turned out to be a delicious wine.' I enjoy communicating with the growers and making wine together every day," he responded while smiling the whole time through this interview.